Paint With Pearl – The First to sell Thermochromic Pigments to the public. It's the paint that changes color with the temperature!
The first videos on Youtube of thermochromic came from Paint With Pearl.  Since then we have accumulated some copy cat businesses selling similar products. We sell the highest quality at the best prices.  We have more user videos than anyone else, and we now have the best available prices on the web for Thermochromic Pigments. Since 2008, we have done numerous experiments with Heat changing pigments. We also have an actual powder coater that has had success spraying thermochromic pigments in powder coatings.
People often ask us "What is that car paint that changes color when wet?" We often have to explain that it's not the water. It's the temperature of the water. When you see people splashing water on cars, the are making the pigments disappear with hot water by changing the temperature of the Thermochromic Pigment.
Using Thermochromic Pigment under Ghost Pearl and Chameleon Pearls
We were the first to perfect the use of thermochromic pigments in paint.  We have consistently show-cased the hard work of our customers with killer youtube videos and pictures of all the cool color change effects. We have also pioneered a way to add life to your thermochromic pigments by top coating them with our Ghost Pearl and Ghost Chameleon Pearls.  Our Ghost Pearl and Ghost Chameleons have a lot of the same properties of Sun-Screen, and will protect your Thermochromic Pigments from harmful UV rays.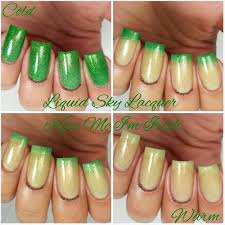 Therrmochromic is Heat Sensitive Pigment, and yes it changes color when the surface temperature changes. It changes color with different temperatures, That is why in all these videos of Thermochromic Pigment changing, it is done with hot and cold water, because that is the fastest way to make the surface temperatuer change.