Theatrical Makeup, Costume Design, and Monster Makeup. Make your own cosmetics, finally!
Did you know that our ghost pearls, candy pearls, chameleon pearls, and Metal Flake are non-toxic and can be used in theatrical makeup and even costume design? DIY Cosmetics at their finest.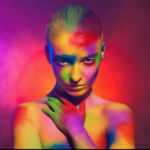 Candy Pearls and Chameleon pearls make great colorants when mixed with your favorite theatrical makeup mediums.  Use in Mineral oil, beeswax, petroleum jellly, and even essential oils. Create amazing effects on bare skin or mix with liquid latex to tint it and make incredible colors. All pigments work great in airbrush. Try using in Costume Design and monster makeup as well.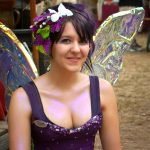 When you look at the ingredients for your normal everyday cosmetics, you will find that Mica is a pretty big part of giving your makeup and cosmetics their color. Our Mica Ghost pearls give subtle tints.  They are frequently used to give skin an iridescent color, like this beautiful fairy on the left. Ghost Pearl used both on her skin and in her costume design. Our pearls are great in creating biological effects like fish scales and lizard skin. Great for Monster makeup.  Taxidermists use our pearls in creating realistic fish scales and reptile skin.